Quinn Packaging Develop Environmental Product Declarations (EPDs) for all Products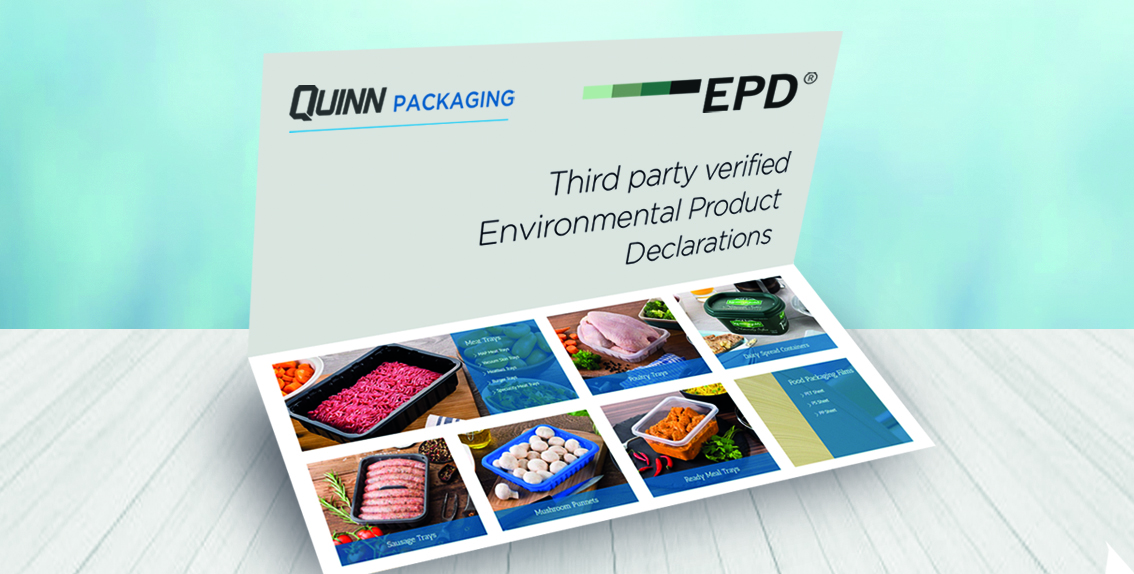 Quinn Packaging have successfully developed Environmental Product Declaration (EPDs) for all their manufactured food packaging products. An EPD is an internationally recognised, independently verified and registered document that communicates transparent and comparable information about the life-cycle environmental impact of products.
The EPD scheme has been established in a bid to measure and reduce the environmental impact of products and will enable retailers to make a more informed choice about the packaging products they use. 
These "cradle to gate" certificates demonstrate that every aspect of manufacturing has been looked at and independently verified, from the raw materials right through to dispatch to assess the carbon footprint of the manufacturing process.
Quinn Packaging's EPDs have been developed by independent assessors, EcoReview, who carried out full Life Cycle Assessments using innovative technology, EcoChain. The process of developing EPDs requires analysis of large volumes of data on the types and volumes of materials and the energy types and processes that go into making the products. The company have published a total of 14 EPDs for Quinn Packaging, which include meat and poultry trays, mushroom punnets, dairy spread containers and ready meal containers.

In order to complete the full Life Cycle Assessment, it was essential to drill down into details such as sources of materials and their chemical constituents, details on energy types (e.g. fuel mix of electricity generated), and allocation (i.e. metering of electricity) across manufacturing processes. Quinn Packaging also looked at waste types generated and the end-of-life scenarios for these wastes.
Quinn's General Manager, Mark McKenna, reaffirmed the company's commitment to more environmentally friendly packaging solutions, saying,
"As a company, we are at the forefront of developing more sustainable products which work in a circular economy and ensure our customers can make better informed choices. In order to make a fully informed decision on packaging solutions, retailers must consider the full suite of environmental credentials, including the carbon footprint of the product choices available. We believe these EPDs place us among the first companies here to be able to provide robust and transparent data on this aspect. This is a key part of the decision-making process and we're now in a stronger position to advise our customers on the most sustainable solutions for them.

It also means we can continue to improve our processes to minimise the environmental impact of our products and our operations, ensuring we maintain our commitment to be a leading provider of sustainable packaging solutions."